Mercyful Fate
Date: 1996-08-11
Location: Copenhagen, Denmark
Venue: Amager Strandpark
Opening Act: Pretty Maids, Led Zeppelin Jam
Headliner: Ritchie Blackmore's Rainbow
Archived: Video
Setlist:
Lucifer
Evil
A Dangerous Meeting
Angel Of Light
Egypt
Curse Of The Pharaohs
Doomed By The Living Dead
The Uninvited Guest
Black Funeral
The Bell Witch
Satan's Fall
Come To The Sabbath
Comments:
Mercyful Fate was added to the bill just a week before the show. Therefor there exists tickets, both with Mercyful Fate and with Babylon Zoo (which were replaced by Mercyful fate).

This show was arranged by Musikföreningen 5-ören.
Ticket:
Pictures: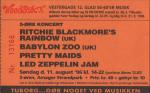 Ticket without Mercyful Fate, but with Babylon Zoo on it.
The Mercyful Fate / King Diamond F.A.Q. © 2005-2019 |
Webmaster