Mercyful Fate
Date: 1999-07-12
Location: Athens, Greece
Venue: Athlitiko Kentro Neotitas, Ag. Kosmas
Opening Act: Sodom, Immortal, Nightfall, Exhumation, Horrified
Headliner: Manowar
Archived: Video
Setlist:
I need help with this setlist.
Comments:
The Rockwave Festival.
Ticket:
Pictures: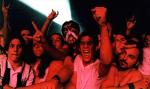 Crazy fans at the Mercyful Fate show in Athens 1999. The painted guy in the middle is Tartarus from the Diamond Bangers United message board.
The Mercyful Fate / King Diamond F.A.Q. © 2005-2019 |
Webmaster