Sweden Rock Festival 2009
Is this about Rock 'n Roll or about the wheater?

by webmaster, mfkdfaq.com (2009-08-15)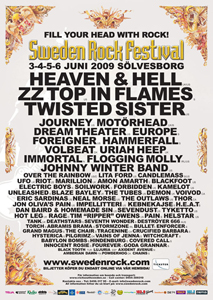 Once again it was time for me to visit the biggest rock festival in Sweden. This was the thirteenth year I attended the festival. The Sweden Rock Festival started up as "Sommarfesten" in Olofström in the south of Sweden way back in 1992, then in 1993 it moved to Karlshamn and changed its name to "Karlshamn Rock Festival". Over the years the festival grew bigger and the area in Karlshamn got to small, then in 1998 it moved to its current location, Norje, outside of Sölvesborg. The year after the relocation, the name changed to "Sweden Rock Festival". Since 2001, the attendance record has been beaten every year, so again this year.
For the past eleven years, I and my friends have had the luxury to be able to live in a cottage, about 500 meters from the entrance. But then this year, all of my buddies decided to skip the festival, so I had to go by myself. As I don't live that far from the actual festival area, I decided to go home every night and sleep in my own bed. Sure, the festival feeling won't be the same, but it's so much better than sleeping in a tent.
This years festival was held between the third and sixth of June, 2009.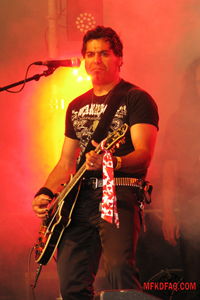 Wednesday
I arrived to the parking lot in good time before the first band would enter the stage, it was around 2 p.m. I parked my car rather close to the festival camping area, so it was not that far to walk. The sun was shining, great, that was what I thought, and then I don't need to bring my rainwear. I came about 100 meters from the car and then the sky just opened itself up. I ran back to the car to get the rainwear. Waited in the car about ten minutes, then the rain stopped and the sky was clear again. Very weird weather, as soon as it was sunny, the rain started pouring down. The weather would be like this the whole festival, except the last day that actually didn't have any rain at all. So it was just to put the shorts back on and the rainwear came along in the bag.
The first band that I saw was Tracenine from Canada, a band I never heard of before. Quite good opener for the festival, but nothing I felt that I have missed and probably nothing I will check again. It can't be easy to be first band out, and on the first day when just a third of the audience have access to area.
When I was done with Tracenine I went over to Zeppelin stage, and checked out Innocent Rosie, a sleaze band from Göteborg, Sweden. A rather new band, that maybe can be something one day, if the guitar player changes his image a bit and stops doing everything to look like Dregen from Backyard Babies. Do something original instead.
Then it was time for true metal warriors, the female kind. Hysterica, five ladies doing some kind of Manowar / true metal-thing… With swords, leather and songs like "Metalwar" and "Bless The Beast". Some more time in the rehearsal room and some more stage experience, they might actually get somewhere.
Torch, a band that didn't have a breakthrough in the 80's and they probably won't now either, but they looked like they where having fun, and that's the only thing that matters. And this year's most awful moustache was found…
After this I went over and sat down in the grass in front of Sweden Stage. Sevendust was the next band on the bill, yet another band that I hadn't checked up. After the response Disturbed got last year, a couple of  "modern" bands was booked this year also. Disturbed was better.
After Sevendust, it was time for the band I was waiting for this day, Witchcraft. Doom from Örebro, Sweden with very clear influences from bands like early Black Sabbath and Pentagram. This actually became a really good concert, so Witchcraft's records will be bought. If you like dark and heavy 70's metal, check out Witchcraft. After this experience in the sign of doom I decided to leave the festival for today.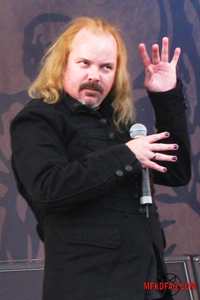 Thursday
Dan Baird had already began to play when I came to the festival, great bluesy guitars to begin the day with. I went over to Rock Stage to check out Volbeat, there was a big chance that there could be a lot of people. Last time Volbeat played at the Sweden Rock Festival, they were put on a much too small stage, Zeppelin Stage, so this time they got to play on a bigger stage. And the show was great; the audience was really into it.
Candlemass – Death Magic Doom, yes, that it was, in the middle of broad daylight. Dark and heavy, and with a singer that knows what do with his voice. According to the announcer, Orvar Sävström, there was a record beaten at the festival this year; 48 Marshall amps onstage - power!
When the clock turned 7.00 p.m. it was time for Portrait to enter the small stage outside the restaurant once again. Why can't this young and hungry band play at a regular stage on the festival area? They could for example trade place with Torch… Last time I saw Portrait was at this exact same stage two years ago. Since that time they have exchanged both the singer and the bass player. The change of singer, from Philip to the new one, Per Karlsson, was a great move. A much better singer in my ears, he does the old songs justice and I think they even sound better. I want to see Portrait at a better stage at the festival next year.
At the same time as ZZ Top was playing at Festival Stage it was time for Bullet to enter Zeppelin Stage. Orvar presented Bullet with the now classic words: "What do you choose? Do you choose three old men from Texas that haven't made a good record for 30 years or do you choose BULLET?" For me this was the best concert this Thursday, you could see that the band had a blast. It's so clear when band likes what they do on stage, and often it turns out to be a great show. They had some minor trouble with their pyrotechnics… It actually started to burn in one of the monitor, but that was put out with the help of some beer. Just when the gig ended, it started to rain and I went over to check Hammerfall. I watched like a half song and then the rain really started to pour down so I gave up for the day.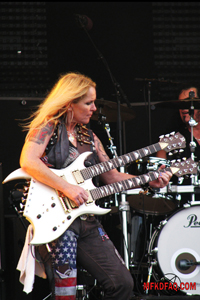 Friday
Rain, rain, rain and some sun… I arrived to the festival just before Marrilion was about to go on. Some rain from time to time, but it looked like it would stop when they started to play. They got through almost half the gig before the rain started again. I went over to a beer tent and waited for Lita Ford to begin.
Lita started with the great "Larger Than Life", I thought this could be great. But the rain was in the air the whole time, and of course, it started to pour down again. The sound was very weak, apparently there was a guitar player missing because of some passport problems at the airport. The songs goes to slow, lyrics are forgotten, a disappointment. It wasn't the best show at this year's festival if I say so. Well, it was nice seeing Lita, too bad that I didn't saw her in the 80's, it must have been much better then.
Ran over to watch the end of Demon's gig, and it looked like it had been a great one. I got there in time to hear the last songs, among others "Don't Break the Circle". It turned out that I had chosen the wrong concert when I stayed to se the full Lita Ford show.
After Demon I went over to the press tent to check out Motörhead's press conference. A smart move, as the sky totally opened itself up and heavy rain started to pour down. They entered the press tent quite on time, and answered the few questions they got. There wasn't that many questions that was that interesting. It seemed like no one in the press had prepared for this. After the press conference was over Enforcer hade began to play in the little Gibson tent.
There was rather lot of people in the tent, maybe they where there to see Enforcer or maybe it was because of the rain… Great old school metal. There are a lot of new great Heavy Metal bands (Portrait, Enforcer, RAM, In Solitude etc.) coming up here in Sweden, and I like most of them. I hope they all keep on a playing and have great success. Over at Festival Stage it was time for Foreigner, not my favourite band. They played a piece of "Whole Lotta Love" in their song "Juke Box hero", and that sounded good though.
Checked out some songs with Crucified Barbara before it was time to take place for this evenings main event, Motörhead. CB was good, but I thought they where better the first time I saw them here at the festival, and after all I was here to see Motörhead.
The highlight of the year, and the worst collision, Motörhead played at the same time as Abramis Brama. I choose to see Motörhead and I don't regret it. They opened with "Iron Fist", and they set the bar right away. Motörhead is one of the few bands that still include both a drum solo and a guitar solo in their setlists on festivals. Firebreathing bikini babes in the song "Killed By Death"… When Motörhead was done, I was done too.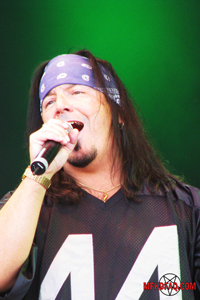 Saturday
Finally, a day with no rain at all, but quite a lot of wind, so it actually got rather cold from time to time. Riot became the first band for me this Saturday. I had never seen Riot prior to this, so this was a pleasant acquaintance. Heavy Metal and sun, a nice combination. It looked like they had a great time on stage, still after so many years, great.
After Riot was done at Rock Stage it was time for Journey at Festival Stage. I never been a fan of Journey, but sitting in the grass, eating a kebab and listening to great rock music, that's never wrong. It's so great that it's not raining this day. I hanged around and listened on Journey until it was time for Electric Boys on the other stage. It's great that they have reunited. It's been over 20 years since I saw them last time.
It was a great show with songs like "Groovus Maximus", Bad Motherfunker" and "All Lip N' Hips". Conny Bloom had some trouble with his gigantic fringes; they got stuck in the microphone stand so a roadie had to enter the stage to fix it. An indoor gig with Electric Boys later this year would be great.
If Electric Boys was in charge of the party music this evening, Dream Theater stood for the musical perfection. These Musicians, yes musicians with a capital M, sure knows how to play their instruments. Despite the 10 seconds of silence that arose when the sound engineer fell asleep (or what ever happened?), Dream Theater delivered classical music in metal shape. This was actually the premiere show on their European Summer Shows 2009-tour. And if this was like a warm up gig, then I can imagine how tight they will sound further on.
Watched a few songs with Europe, but they sounded rather pale after Dream Theaters performance. Sure the old songs are great, but overall I think Europe is rather dull.
The last slot on this year's festival was given to Heaven & Hell. The expectations were rather high after the awesome gig two years ago, which was one of the best shows I've ever seen at the festival over the years. But those expectations where blown away by the horrendous sound. You almost couldn't here the guitar. Sure Ronnie James Dio is a God on stage, always a great performer, and the songs where great and Vinny Appice succeeded to crash a number of drum skins. But the bad sound and the cold windy weather made it a rather tedious show. I almost stood there and wishing it to end.
Summary
Overall I would say that it has been a great festival this year. I believe this must be one of the best organized festivals in Europe. There are always lots of good food, not that much waiting in lines, the distances to parking, camping and such are not to long, lots of record dealers (rather pricy though) and the schedule are followed very good.
This year's best concerts were Bullet and Motörhead, with an honourable mention of Dream Theater.
I'm looking forward to next year's festival with lots of great bands. Now it's time for the festival management to book Mercyful Fate or King Diamond, or why not both!
More pictures from Sweden Rock festival 2009
The Mercyful Fate / King Diamond F.A.Q. © 2005-2019 |
Webmaster